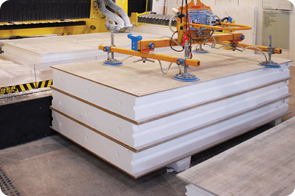 The Magnum Board™ sanded back product line was engineered to provide the building community with ICC AC 386 compliant ASTM Testing and Underwriters Laboratories Inc. approvals in the USA and Canada.

In doing so, use of all Magnum Board™ Products eliminates the toughest problems faced by architects, engineers, contractors, builders and consumers today. Magnum Board™ Products are:
Virtually impervious to fire – non-flammable and non-combustible
Virtually impervious to water – can be fully submerged for long periods of time with no affect dimensionally whatsoever
Unaffected by all insects – such as termites and carpenter ants
A non nutrient for mold or mildew
Are completely non toxic
Homogenous construction to eliminate delaminating
Available for almost every application required in construction for of your projects including Residential, Commercial and Industrial.
Magnum Building Product™ sanded back factory is ISO Certified and to ensure consistent quality, our quality control process receiving, in process and final inspections as well as quarterly audits by Underwriters Laboratories quality control personnel.

The theme of quality being number one is followed throughout the manufacturing, packaging, delivery and customer use process by providing one of the best warranties in the construction material market today. We stand behind our products.