Chateau Homes offers an extensive range of wood, metal, and fiberglass doors so we're sure to have a door to meet your needs. Interior, Exterior, Pocket doors, by pass, bi-fold, you name it. You're guaranteed a quality fit and finish every time.



Therma-Tru's Smooth-Star Steel Door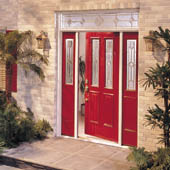 Compare Therma-Tru's new Smooth-Star door to any steel door and you'll never install a steel door again! Distinctive panel detail create dramatic shadow lines while stile and rail lines set Smooth-Star fiberglass doors apart from embossed steel doors.
It won't split or warp. And unlike a steel door, it won't dent, ding, rust or require costly call-backs. A Smooth-Star door is warm to the touch, not icy cold in the winter or sizzling hot from sun exposure.

Twice the warranty of steel doors - Smooth-Star doors are backed by a 20-year limited warranty. Smooth-Star is a paint grade fiberglass door. They do not need to be primed. Use a high grade exterior acrylic latex paint.

Smooth-Star doors are available in embossed, raised-panel and 8' tall styles. Create the custom door you've always wanted with any of these panel styles by combining them with over one hundred doorlite choices, including matching sidelites and transoms.
Visit the Therma Tru web site...


Trimlite Doors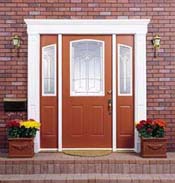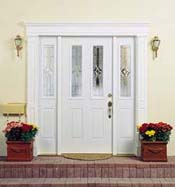 Trimlite, Inc. is a quality manufacturer of decorative glass and pre-hung doors. Trimlite offers a variety of Decorative Doorlites, Break-Resistant Doorlites, Steel Doors, Fiberglass Doors, Fire-Rated Doors, Metal Edge Doors, Interior French Doors, Interior Pine Doors, Interior Flush Doors, and other building materials. Founded in 1983, Trimlite is known for its creative glass panel designs. We are committed to providing quality products with a creative flair to add beauty to any home or business.
Visit the Trimlite web site...